2020.10.12 CIE & CIE-US Online Events
●Oct. 22
A CONVERSATION ABOUT THE US-JAPAN ALLIANCE: FROM GEOPOLITICS TO GRASSROOTS
Featuring RADM Ret. James Kelly and Sheila A. Smith, Ph.D.
The alliance between Japan and the US continues to shape global policies and local communities. Listen in to a conversation between RADM Ret. James Kelly, who served as Commander, Naval Forces Japan, from 2005-2009, and Dr. Sheila A. Smith, senior fellow for Japan Studies at the Council on Foreign Relations. Both have voices of experience regarding the geopolitical implications of the US-Japan alliance and a deep respect for the relationships and grassroots energies that undergird the alliance. Bring your questions and comments to this timely conversation as both nations - and their citizens - build our alliance through new challenges.
This event is free and open to the public.
When: Thursday, October 22, 2020 7:00pm EDT
Register: Zoom Conference Link
●Oct. 23
JapanPhilly2020 Talk Series
Manjiro: Drifting, 1841–2020
Manjiro's epic tale begins in 1841, when, as a teenager, he left his tiny Japanese village on a fishing trip. A violent storm left him shipwrecked and set the course that would lead Manjiro to become the first Japanese person to live in the United States. In partnership with the Japan America Society of Greater Philadelphia's JapanPhilly2020 initiative, The Rosenbach will present a special exhibition on Manjiro's legendary life, featuring holdings from our collection along with partner loans. Highlights include Manjiro's own illustrated manuscript depicting his world travels, rare letters between Manjiro and the captain who rescued him at sea, and much more.
Speakers:
Judith M. Guston, Curator and Director of Collections
Kiyoshi Hirata, Trustee of Center for International Exchange (CIE), Director of John Mung International, Inc. (JMI, NPO)
When: Friday, October 23, 2020 8:00 pm (EDT)
Register: Manjiro: Drifting, 1841–2020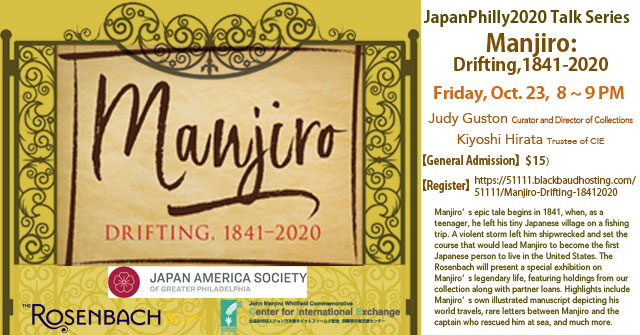 ●Nov. 5
FAMILY TIES:
U.S.-Japan Relations and the Legacy of Manjiro Nakahama and William Whitfield
Anyone interested in the iconic story of Nakahama Manjiro, the first Japanese person to live in the U.S., and Capt. William Whitfield, the American whaling captain who rescued Manjiro at sea in 1841 and brought him to live and be educated in Fairhaven, Massachusetts, is cordially invited to join a Zoom meeting of the 5th and 6th generations of Nakahama and Whitfield descendants and Dr. Matthew C. Perry, great great grandnephew of Commodore Matthew C. Perry . Over the last century, the Nakahama and Whitfield families have maintained close ties and meet regularly to celebrate the friendship of their ancestors who played such a key role in the origins of the U.S.-Japan Relationship.
When: Thursday, Nov. 5 7:00 pm (EST)
Register: Family Ties: US-Japan Relations and the Legacy of Manjiro Nakahama & William Whitfield
Advance registration is required.