Greeting
Masaharu Kohno,Chairman
More than 70 years have passed since the end of the Second World War, however, the international community is facing serious challenges, from worsening terrorist threats to strained global issues. Among such uncertainties, as we tend to be more inward looking and cautious, I feel that our collective wisdom to cultivate a better future will also be tested more than ever.
It is therefore all the more important for us to strengthen our efforts to promote friendship across borders. Deepening our mutual understanding of individuals at the grassroots level is critical to drive this. The deep trust built into the relationship between Japan and America, has been nurtured through tireless communication over a long period. This alliance is an invaluable asset, not only for our countries but as a valued and dependable public good for the international community as a whole.
In my previous career in the government, including being stationed in the US three times, I have been engaged with various issues that lie between our two countries. Through this experience, I am convinced that the bond of friendship based upon shared values between our two peoples is the solid foundation on which we build our future.
The history of our relations dates back to 1841 when John Manjiro met Captain Whitfield. This historical fact gives tremendous weight into the activities of the Center for International Exchange or CIE. Since then, our two countries have faced many difficulties but we have always overcome and have built this firm relationship of trust which we are enjoying today.
At this moment, as CIE Chairman, I think deeply upon the relationship we have built.  I will do my best to further the friendship between the two countries and the actives of CIE.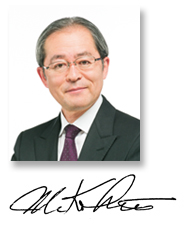 Aim of CIE
CIE's aim is to promote 'Grassroots Exchange', i.e. the free exchange of opinions between individual citizens of America and Japan, and through this to further mutual understanding and friendship between the two countries.
History